---
Home to a bustling metropolis (Charlotte), a stunningly beautiful coastal region (the Outer Banks), a soaring mountain range (the Blue Ridge Mountains), and some killer kayaking and rafting (rivers all over the state), North Carolina definitely offers a lot. It's no surprise then that tourists, particularly from neighboring mid-atlantic areas, descend on the state every summer to get their kicks.
Some visitors, though, have come to North Carolina never to be heard from again. Famously, the Lost Colony of Roanoke Island arrived in the 1580s and vanished without a trace. Meanwhile off shore, many ships have sailed around Cape Hatteras only to meet an untimely--and often inexplicable-- end.
Fortunately, one of the things that hasn't performed a disappearing act in North Carolina is cell phone coverage. Reception is generally strong throughout the state. Read on to learn more about the best cell phone coverage in North Carolina.
Coverage in North Carolina At-a-Glance
Coverage in North Carolina is quite strong overall, earning a score of 89 out of 100. Here's a full list of coverage ratings by state.
What we love
Coverage from AT&T excellent
Coverage from Verizon strong as well
What could be improved
Sprint coverage leaves room for improvement
Coverage always a bit tricky in rural areas or along coastline
89/100
All four major carriers are represented throughout the state, as are a multitude of smaller MVNOs that run on their networks.
AT&T has the widest network reach in North Carolina, and takes the title for the best network in the state.
Verizon comes in at a close second, and T-Mobile is in third. Sprint's coverage lags a bit, but customers can connect to other networks where Sprint has roaming agreements.
Best Coverage in North Carolina by Network
| Network | Covered Area % |
| --- | --- |
| AT&T | 91.79% |
| Verizon | 88.98% |
| T-Mobile | 79.51% |
| Sprint | 58.58% |
North Carolina has 1,081 zip codes, and the state's best network, AT&T, covers roughly 92% of them. Here are the network rankings by zip:
Coverage in North Carolina by Network & Zip Code
The most important part of the process is to ensure that the areas that you are located in and travel to are well-covered.
You can check your own coverage by entering your address here.
Numbers on a page are one thing, but the coverage maps tell the full story. Fortunately, you don't have to go to all of the carriers' websites to get this information--you can see what the coverage is like from the four majors below:
Coverage Maps North Carolina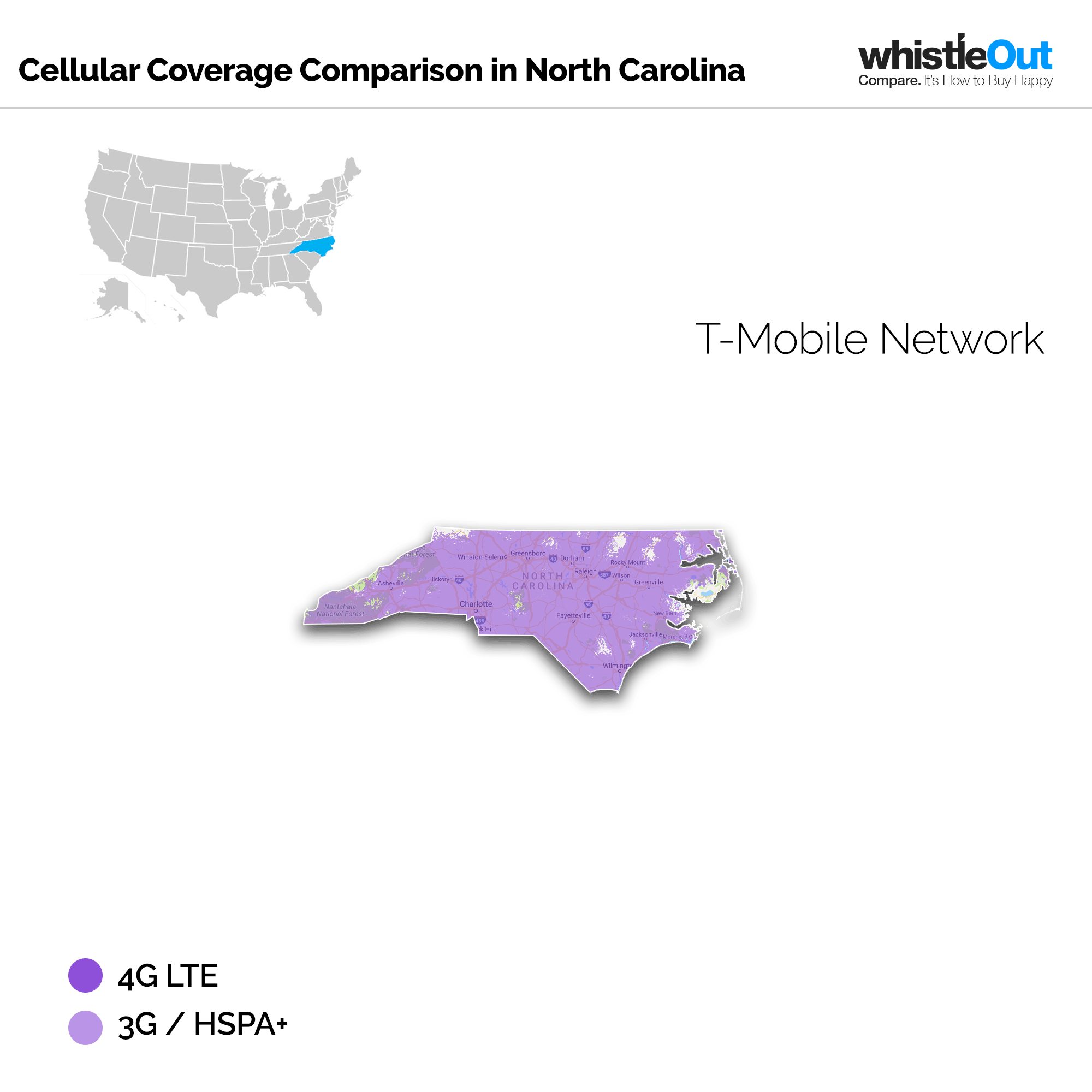 ---
The maps confirm that AT&T provides the most robust coverage in North Carolina, followed by Verizon. T-Mobile's coverage is decent, while Sprint lags behind a bit.
We break down the 3G and 4G network coverage below.
Coverage in North Carolina (49,937 m2) by 3G/4G LTE
| | AT&T | Verizon | T-Mobile | Sprint |
| --- | --- | --- | --- | --- |
| 3G | 45,836 | 41,862 | 36,734 | 25,161 |
| 4G LTE | 41,248 | 44,434 | 39,706 | 29,253 |
North Carolina is broadly covered by both 3G and 4G LTE technology. 3G is the network that some older phones run on, and the one newer 4G LTE-capable devices fall back to when unable to reach a primary network.

Big Carriers vs. Small Carriers in North Carolina
Did you know that there are dozens of small carriers that run on the major networks, but charge a fraction of the price for service? These companies are known as Mobile Virtual Network Operators, MVNOs for short. MVNOs purchase network service from the major providers at wholesale prices, then pass the savings on to consumers.
If you're interested in Verizon's coverage, for example, but are looking for a better deal, Straight Talk Wireless, Twigby and Red Pocket are just a few of the smaller providers you'll want to check out.
Click on the logos below to see which carriers run on which major networks:
Getting the Best Plan & Coverage
WhistleOut's new coverage check feature supercharges an already robust comparison engine by allowing you to instantly see what coverage is like at your location. All you have to do is punch in your address and we do the rest. This feature is the first of its kind, and empowers consumers to make better decisions when it comes to wireless.
In addition to showing you a map of your area with the coverage from all four major carriers, we filter through the available cell phone plans and present only those from carriers who provide good reception to you.
Compare Carriers to Find the Perfect
Cell Phone Plan
---